Whether you want to improve the look and feel of your backyard spa or you yen for a design that allows you to swim laps despite your compact space, installing a jet system will provide a range of aesthetic, health and recreational advantages. Here, Annie Slevison uncovers all you need to know about swim and spa jets in conversation with Gil Howard, the owner of Oasis Pools.
Revered for its ability to bring joy and serenity, swimming is an activity that has significant benefits for overall wellbeing. Helping to manage stress, improve the quality of sleep, enhance mood, and build strength and endurance, swimming can certainly work wonders for the mind and body. Unlike high-impact activities such as running or jogging, swimming is gentle on the body, with the buoyancy of water helping to relieve tension. Ideal for those suffering from arthritis and joint pain, swimming is a rewarding exercise regime that, with the right facilities, can be enjoyed from within the comfort of your own home. Swim jet systems are an ideal inclusion for most settings due to their compact, yet highly functional nature.
Regardless of whether you're new to swimming or an expert aiming to beat a personal best, Howard explains that swimming with jet systems can be a beneficial addition for overall wellbeing, while also helping to increase physical fitness. As well as allowing you to complete a challenging workout, jet systems can also include hydrotherapy massage jets for a postswim treatment, and can be installed in seating areas to create a soothing spa-like feel.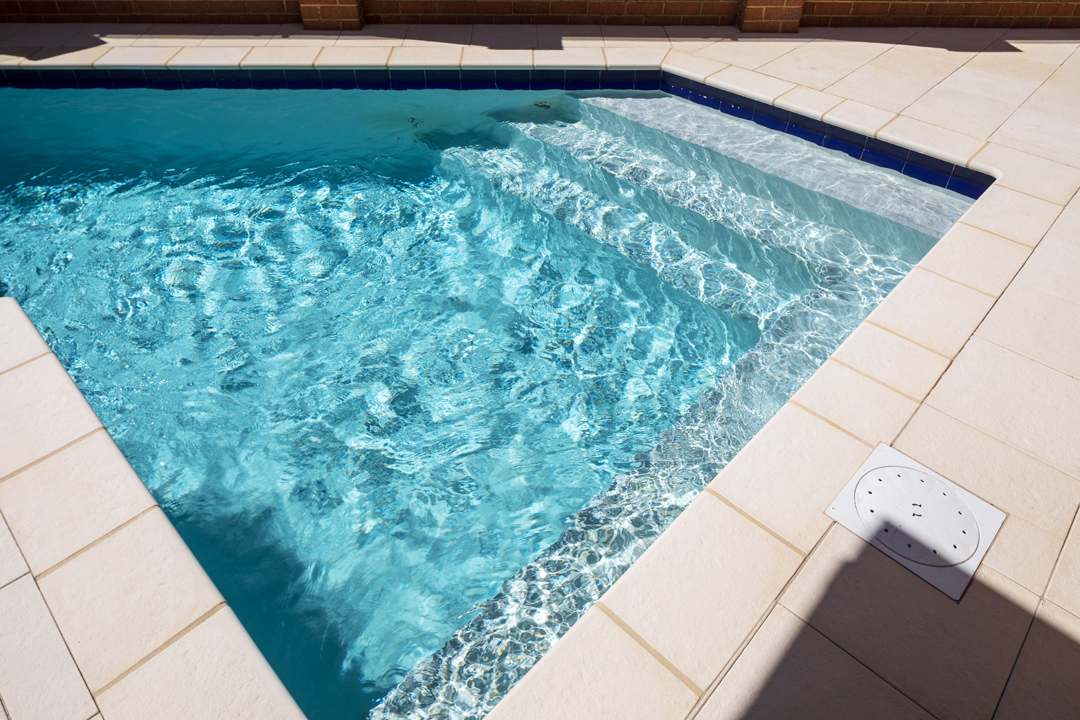 Just Keep Swimming
If the size of your backyard has dampened your dream of owning a 25-metre lap pool, fear not – you can still get your strokes in regardless of spatial limitations. "Swim jets enable high-quality exercise in pools of all sizes," Howard explains. "Housing blocks are becoming smaller, therefore a small pool with a swim jet may be the best solution for your family." The right system can help you maintain your fitness, and allow you to complete a satisfactory workout, without an Olympic-sized pool.
When choosing the perfect jets for a small plunge pool, Howard explains that the majority of the available systems have similar factors. "Most swim jets are usually made up from two pumps, and two returns," he says. "Some jets are boosted by air blowers, while others are simply water streams."
Aerated swim jets, which feature bubbles in the stream, are installed by pool builders during construction, while nonaerated systems can be included later if need be. "There are aftermarket models where pumps and jets are mounted on the end of the pool, and added after the pool construction. They contain the pump and propeller – and although they are not as attractive, they are functional," Howard says. For those wanting top of the range, consider Remco. "They supply single and double swim jets that are built into the pool, with the unit containing the pumps and swim jet propeller inside the pool shell wall," Howard explains.
When it comes to the placement of your swim jets and the associated equipment, Howard recommends keeping the power storage close to the pool surrounds for the best results.
"Some swim jets are powered by pumps located away from the pool, in the plant room; however, this can create power loss in the pipes. Large 100mm pipes should be installed for this type," he says. On that note, it's important to be wary of inexpensive makes, as they are usually not value for money in the long run. "Low-power swim jets for children may be low in cost, but they are not useful for adults and strong swimmers," Howard adds.
​
Brilliant Badu
If you take your swimming seriously, and would like the option to swim longer distances but don't have the luxury of a lap pool, Howard suggests the Badu Stream SwimJet system. "Badu is an aerated brand that has two separate pumps and air blowers. The jets look like dinner plates that are built into the pool wall, while the pumps are located further away," he says.
The powerful system has a flow rate of 2400 litres per minute; water is forced through specially designed nozzles which are included in the pool shell during the construction phase. The flow can be adjusted and controlled from within the pool, allowing you to choose the flow that is right for your swimming needs. Some of Badu's non-aerated models can even eliminate bubbles, creating a similarly powerful result and a more pleasant swimming environment. "Badu also offer massage jets as an optional extra," Howard says.
Relaxation and Rejuvenation
There is nothing quite like letting your troubles melt away in a heated spa; with the right design, the benefits for your mental health can be vast. The team at Oasis Pools meet many customers who want to experience the bliss; "a massage and relaxation in warm water after a hard day is a popular activity," Howard says. With spa jet systems requiring very little maintenance, they are a great solution if you want resort-style opulence, without the travel expenses.
To enhance your at-home spa experience, Howard recommends a minimum of one jet per metre of wall to ensure all users can enjoy the pressurised water flow. "The jet placement depends on the spa size and shape, but consideration should be given to the skimmer location, so seating is comfortable for everyone," he adds. "A 2m x 2m spa by Oasis Pools, usually has eight jets placed in the walls above the seats."
For added luxury, the company also includes a range of massage jets to further enhance the relaxing experience. "The jets have a separate pump and air blower to power the massage jets. In the floor, Oasis Pools also places twelve pepper pot jets, which are connected to a separate air blower for foot massages," Howard continues.
Renowned for their ability to produce outstanding results, stemming from years of professional experience, the team at Oasis Pools are experts in the pool industry. "We construct individually designed concrete swimming pools, and are best known for solving difficult site problems with creative engineering," Howard says.
To learn more about Oasis Pools, and the benefits of swim and spa jets visit www.oasispools.com.au.
Images courtesy of Oasis Pools