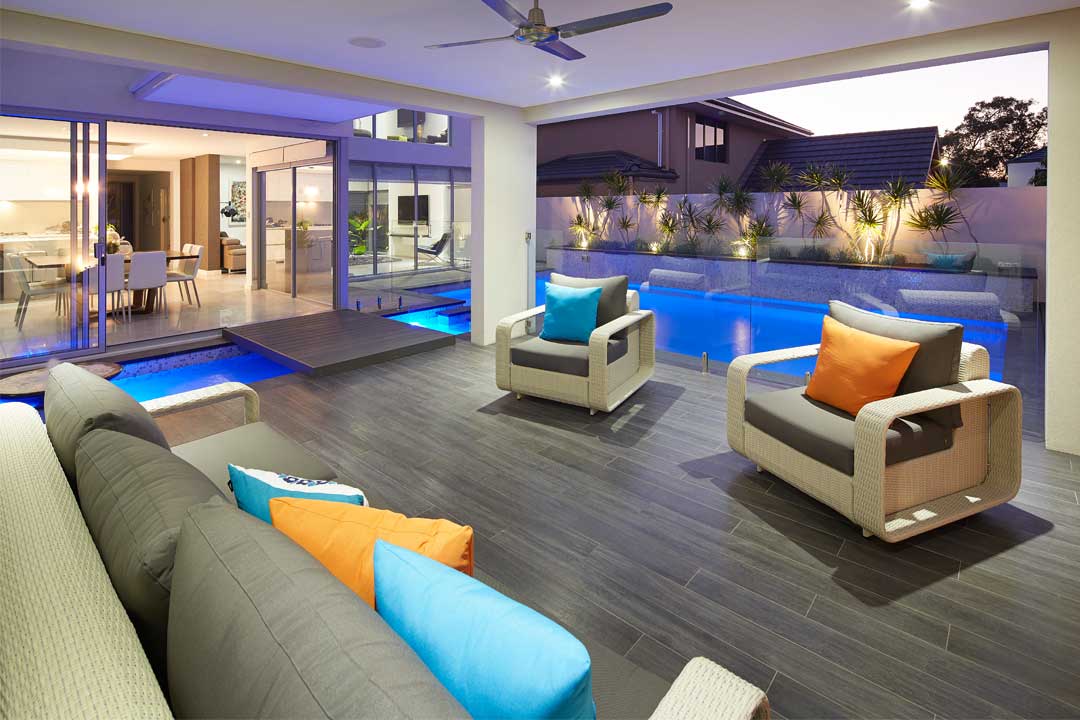 Quality Dolphin Pools Project 3
This outstanding project illustrates why Quality Dolphin Pools is one of the most highly respected swimming pool companies in Western Australia. This large family pool has been ingeniously incorporated with the design of the home in both form and function. Wrapping around the alfresco area, the indoor and outdoor living spaces are connected by a bridge crossing, luring the homeowners and their guests to the idyllic outdoor retreat that awaits them. The team at Quality Dolphin Pools has no doubt exceeded the homeowners' expectations, transcending the brief for a pool with minimal soft scaping, but with an aesthetic 'wow' factor. More than just a swimming pool, the design is a striking visual feature that can be enjoyed year-round, with views of the pool from several areas inside the home.The alluring blue of the pool is achieved thanks to the combination of a Quartzon 'Sky Bay' rendered interior, complementing glass mosaic waterline tiles and four Spa Electrics underwater LED lights with transformers.
The 7.9m-long concrete pool features an abundance of bench seating, providing the perfect spot to sit back and relax while still cooling off in the water. Three water blade features send water cascading into the pool below. Solar heating extends the pool's swimming season, while a Viron three-speed pump reduces energy consumption. A family-owned and -operated business, Quality Dolphin Pools was established in 1971. Today Quality Dolphin Pools has grown to become an industry leader, designing and building concrete pools and spas throughout the Perth metropolitan area, completing up to 150 projects each year. Throughout its 43-year history, Quality Dolphin Pools has been recognised with numerous state and national Swimming Pool and Spa Association (SPASA) awards, including SPASA WA's award for Pool of the Year in both 2011 and 2013.